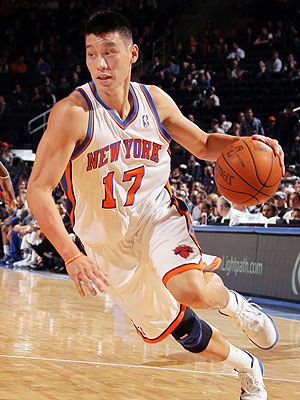 If you follow sports at all, you're probably already familiar with New York Knick phenom Jeremy Lin. He's been dominating the sports headlines ever since he exploded on the scene. An unexpected superstar, Lin had 0 scholarship offers coming out of high school, and was not drafted after playing his college ball at Harvard. In the last several weeks, Lin has gone from a nobody to the most popular name in the NBA. The associated press calls Lin "The most surprising story in the NBA." "Linsanity" has hit the sports world by storm. He just set the record for most points scored by a player in their first 5 games as a starter. Last week he scored 38 points, outscoring future hall of famer Kobe Bryant and leading the New York Knicks to victory over the Los Angeles Lakers.
Yet, among all his impressive accomplishments, Lin possesses a keen sense of humility. The thing I admire most about Lin is how grounded he is. He is rooted in the gospel. Fame, success and fortune doesn't change that. Check out a few quotes from Linsanity:
"
Just because I had a couple of good games, it can't change who I am. My identity is in Christ, not in basketball. I love playing basketball and it's my job but at the same time I still recognize that I'm a sinner, and that's not going to change regardless of how well I play on the court.
" -Jeremy Lin
Lin credits his success to being able to play without pressure.
"I've surrendered that to God. I'm not in a battle with what everybody thinks anymore." Jeremy Lin
That is the kind of freedom the gospel brings.